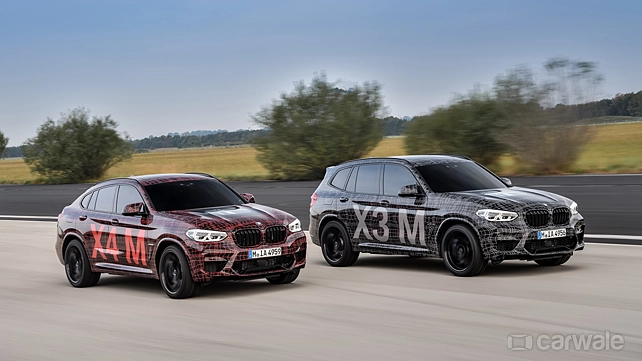 • The X3M and X4M prototypes were teased at the DTM weekend on the Nurburgring.
• BMW will debut a newly-developed straight-six engine with the performance SUVs.
• Expected to debut either later this year or in early 2019.

Of late, the BMW group has been very aggressive about their revamped X products. We already know that the all-new X7 is coming next month. And just a few days back, the Bavarian carmaker debuted the brand's most powerful four-cylinder engine in the X2 M35i, while the new-gen X5 got a plug-in hybrid variant. Now, BMW has teased the X3 M and X4 M officially during the DTM weekend warm-up at the Nurburgring.
The duo will be powered by a newly-developed straight-six engine, claims BMW. We assume that this a new 3.0-litre turbocharged unit which will put out anything between 450-500bhp. Apart from that, the xDrive all-wheel-drive system will also be part of the package, which has been directly taken from the M5 super saloon. The M specific xDrive will be joined by active rear axle differential to maintain the handling capability that BMW is usually associated with. 

Appearance wise, the performance SUVs will get massive air vents upfront and quad exhaust pipes at the back. Apart from that, the height is lowered to reduced body roll while the SUV will sit on massive M-spec alloy wheels wrapped in low profile tyres. The usual M bits will also be present - both inside and out - to keep all the performance in check.
BMW is expected to reveal the new X3 M and X4 M in the coming weeks before the year end. The dynamic duo would hit the streets only in 2019.