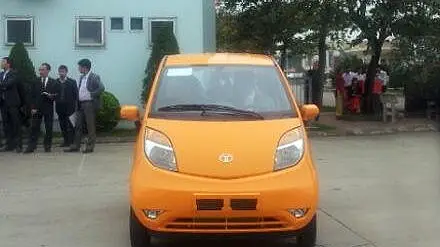 A few weeks ago, we had told you that Tata Motors would be launching the Nano in Jamaica and that sales would start from February next year. Now, we have got reports that the Indian SUV major is also planning to launch the Nano in Vietnam.
Tata Motors has shipped around 50 left hand drive (LHD) Nano's to Vietnam as a business strategy to make it familiar to the Vietnamese market. The Nano will be imported as complete built unit (CBU) by TMT Motor Corporation; the official dealers for Tata in Vietnam .This move is part of a strategy to get the dealers familiar with the car before its official launch it.
In the initial run, the cars will also be tested for their behavior in Vietnam's extremely humid weather conditions. As per reports, Nano's interior plastic is currently not suitable to Vietnam's hot and humid climate and at the same time some plastic structures could crack as they were designed taking Indian market and weather into consideration. The company will make the appropriate changes based on their findings from the test. The Vietnam spec Nano will be priced at 190 million Dong (Rs 5 lakh) and will be launched in February.
Source: VnMedia.vn