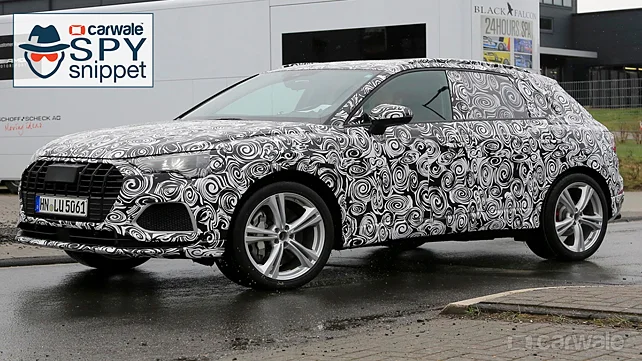 -    The next-gen Q3 will be joined by its high performance variant, the SQ3. 
-    The test mule of the SQ3 was spotted at Nurburgring with a quad-exhaust set-up.
-    With the MQB platform, the SQ3 will get a host of potent powertrain options.

Audi has been busy in its lab, developing the new generation Q3 for quite some time now. The current one is the oldest SUV in the carmaker's line-up and so it came as no surprise to have spotted the new Q3 being tested on multiple occasions. But now, for the first time, our spy sleuths caught sight of its high-performance variant, the SQ3, on the wet tracks of Nurburgring. 
The test mule spotted here sported a quad exhaust set-up with a sportier bumper at the rear. Up front were larger air intakes with a contrast silver trim around it. The vehicle was riding on a larger wheel which gave a clear view of red brake callipers at the rear. The powertrain under the hood might be the 2.0-litre turbocharged motor with around 300-350bhp. It will have a Quattro all-wheel-drive layout as standard.

The cabin will have Audi's Virtual Cockpit which is also seen on the S5. There will be an improved MMI infotainment system as well. The dashboard will be designed horizontally rather than vertically, which will increase the visual width of the cabin. With the new platform, the boot space will also grow in size. 
Audi plans to have a performance variant of its entire Q line-up. With the increase in demands for hot SUVs lately and stiff competition from established contenders like the Mercedes-Benz GLA45 AMG, Seat Ateca Cupra and upcoming X3 M, Audi doesn't want to be left behind. Since it falls under the VW Group's umbrella, the SQ3 can borrow parts and running-gear from the acclaimed Mk5 Golf. The next-gen Q3 will shift to the versatile MQB platform which opens the door to a myriad of powertrain options, even for the SQ3. The new underpinning will also help the crossover drop some weight. 

The new-gen Q3 will arrive sometime later this year. So we can expect the SQ3 to be unveiled a few months after that. And as far as the RSQ3 is concerned, the fully blown crossover will pack 400bhp just like the RS3 and will arrive a year later. Audi might bring the new SQ3 to India as well after the launch of the new-gen Q3.