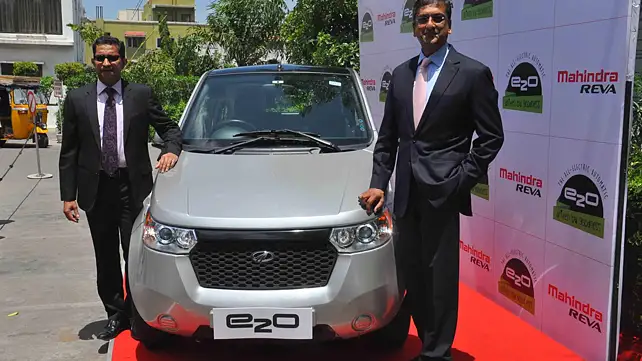 Mahindra Reva Electric Vehicles Pvt. Ltd., unveiled its all-electric, fully automatic, zero-emission Mahindra e2o in Hyderabad recently. The car is already available in the metros. The premium variant has been priced at Rs 5.59 lakh (ex-showroom Hyderabad). This also includes the government's FAME (Faster Adoption and Manufacturing of Electric Vehicles) Demand Incentive. In addition, the customer has to pay a fixed monthly e2o care protection plan of Rs 2,999 for 5 years which is valid for 50,000kms.
The car highlights Mahindra's vision of the 'Future of Mobility' which encompasses the '5Cs' framework of Clean, Convenient, Connected, Clever and Cost Effective vehicle technology. It also advances Mahindra Group's efforts at creating a sustainable, clean and green society. The e2o is manufactured in Mahindra Reva's state-of-the-art IGBC
platinum certified plant
in Bangalore.
Arvind Mathew, Chief Executive Officer, Mahindra Reva, said, "With the Mahindra e2o we are taking the lead in creating a comprehensive ecosystem to usher in a positive change in the lives of our customers and benefit our societies at large. Today, as we launch the e2o in Hyderabad, it is our humble effort to make electric vehicles more accessible and easy to use for our customers in this city. Further, the timely intervention of the Central Government through the FAME scheme was a definitive boost to the EV industry in India and has put into motion better affordability for electric vehicles. Going forward, we will keep our innovation quotient high to create an entire ecosystem to sustain a clean and green environment for a better tomorrow."
The Mahindra e2o can be purchased from select authorised dealers in Hyderabad, namely VVC Motors (Kothaguda) and Automotive Manufacturers (Punjagutta and Rashtrapati Road). Alternately, a test drive can be booked through an online Test Drive Scheduler developed by Mahindra Reva.
The Mahindra e2o is an Electric Vehicle (EV) designed as a mobility solution for a sustainable zero-emissions society and gains better relevance in the face of issues like environmental degradation, pollution-related health concerns, climate change, energy security and rising oil prices. The vehicle is the Mahindra Group's endeavour to offer its customers a clean, smart and economical personal mobility solution and thus redefine sustainable urbanisation.