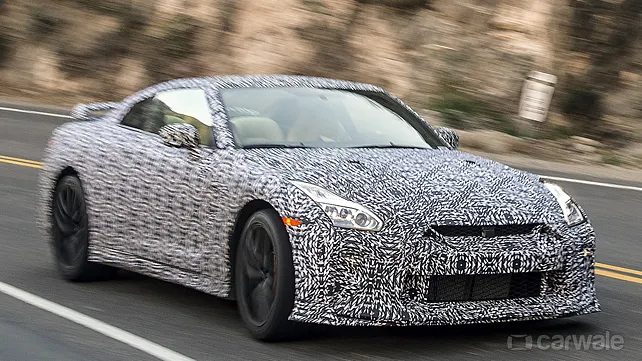 Let's face it, Nissan's ever-practical sports car – the GT-R is a fairly old product now. Launched in 2007, the original model has been upgraded several times with more horsepower and better on-road dynamics to make it the track-day king that it currently is.
Looking at the spy shots of the 2017 model, it seems Nissan is in no hurry to make an entirely new GT-R. Instead, the brand is looking to introduce moderate design revisions to the existing four-seater model before bringing out an all-new car sometime in 2018. We have previously heard of the next-gen GT-R launching no sooner than 2018, which means the car you see here is likely to be substantial enough to continue for the next couple of years.
Design wise, the 2017 model seems to feature a revised front fascia with a deeper and more aggressive air intake under the grille. More changes can be seen at the rear in the form of the new LED lights and a revised bumper.

The current GT-R produces 545bhp, with the hard-core Nismo version churning out 591bhp. The 2017 model, then, is likely to develop close to 600bhp from its 3.8-litre, twin-turbo V6 engine. While we are totally looking forward to an entirely new GT-R, let's just remind ourselves what makes the existing model so great despite its age.
The GT-R is one of the heaviest sports cars money can buy, but amazingly Nissan has managed to make it the quickest accelerating four-seater model ever. Thanks to an incredibly clever all-wheel drive system, 0-100kmph sprint takes 2.8 seconds which makes the GT-R as quick as modern-day hybrid supercars like the McLaren P1 and the LaFerrari.
The global production of the GT-R is limited to 1,000 cars a month because both the twin-turbo V6 and the dual-clutch gearbox are put together by hand.
The tyres in the GT-R are not filled with regular air but with Nitrogen since the latter remains stable even under extreme changes in temperature. Thanks to this, the tyres on the GT-R are less likely to overeat under hard driving on the track.
Nissan only appoints four of its master engineers to assemble the GT-R's engine by hand. Called Takumi in Japanese, these master guys have numerous years of experience in perfecting the art of assembling high-performance engines.