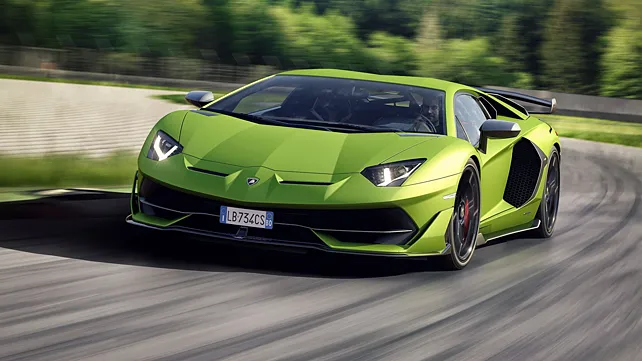 - The hardcore Aventador SVJ is the current King of the Ring having lapped the circuit in 6:44.97 minutes.
- Is powered by a 6.5-litre naturally-aspirated V12 producing 760bhp and 720Nm.
Lamborghini currently holds the current Nurburgring record with the mighty Aventador SVJ. The 'King of the Ring' lapped the gruesome German race track in just 6:44.97 minutes. And now it's coming to India with an official launch slated on 17 December.
This hardcore Aventador has an SVJ suffix which stands for Superveloce Jota. The SV (Superveloce) means 'superfast' while the prestigious Jota moniker is reserved only for Lamborghini's special street-legal race cars. Limited to just 900 units, the Aventador SVJ is powered by the most powerful series-production V12-engine made by Lamborghini till date. It punches out 760bhp of raw power at 8,500 rpm and churns out a colossal 720 Nm of twisting force at 6,750 rpm. Tipping the scale at mere 1,525 kg, the SVJ boasts the best weight-to-power ratio of 1.98 kg/hp. The SVJ can accelerate from standstill to a 100kmph in a mere 2.8 seconds and from 0-to-200kmph in 8.6 seconds, all the way to a top speed of 350kmph.
Part of SVJ's Nurburgring smashing time is thanks to Lamborghini's second generation Aerodinamica Lamborghini Attiva (ALA) active aerodynamics. Its first generation was fitted on the Huracan Performante which too broke the 'Ring record with a time of 6.52.01 minutes. 
The upper body aerodynamic optimisation in the SVJ has increased the downforce by up to 70 per cent, says the carmaker. There are active diffusers, wings, fins and shapes all helping towards the SVJ's go-fast philosophy. The extensive weight shaving methods include carbon fibre parts, super-light 'Nireo' aluminium alloys and a stark cabin. The SVJ also comes with new editions of Lamborghini's acronyms including LDVA with EGO mode, ISR, LRS, and LDS. The Pirelli P Zero Corsa comes as standard, but the street-legal P Zero Trofeo R tyres can also be opted specifically for track use.
The Aventador SVJ is expected to carry a price tag at around Rs 6 crores when it makes its Indian debut. It will be alternative to the opulent Ferrari 812 Superfast and the hardcore Porsche 911 GT2 RS.