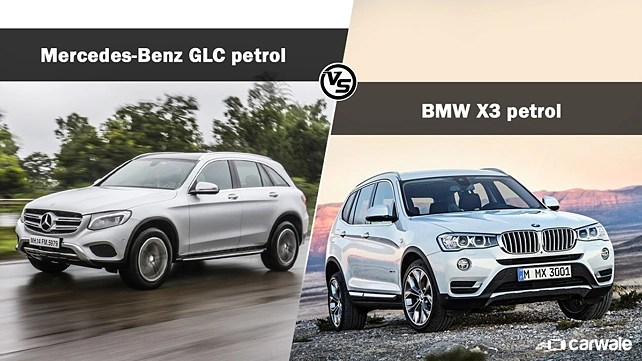 The price difference between petrol and diesel has diminished after deregulation and with incidents like the diesel ban, petrol engines are coming back in vogue. Even the big luxury SUVs that had been a diesel bastion are now opening up to petrol power. Mercedes started the trend introducing the GLC 300 and now BMW has launched a petrol version of the BMW X3, the 28i xDrive. So before we bring both the cars together and put them head to head, here is a spec comparison to start with.
Dimensions
The BMW X3 and the Mercedes GLC are almost the same size. At 4657mm, the BMW is 1mm longer than the GLC and at 1678mm, it is 39mm taller than the Mercedes. The GLC on the other hand is wider by 9mm at 1890mm. The Mercedes also has a longer wheelbase than the BMW which means the former will have more cabin space.
The BMW with its boxy proportions scores over the Mercedes GLC when it comes to looking its part as an SUV. The Mercedes is more wagon-like in its styling but has the required bulk nonetheless. Mercedes gets LED headlamps while the BMW still works with the projector and xenon bulb setup.
Equipment
Both, BMW and Mercedes-Benz, are luxury cars which means they get all the creature comforts money offers in that segment. Also, they are pretty evenly matched with climate control, leather seats, infotainment system, electrically adjustable seats, multiple airbags and innumerable storage space all around. You could give or take a feature or two in either case but at the end of the day, both are evenly matched.
Engine and performance
The new petrol engine being offered with the BMW X3 is the same 2.0-litre turbocharged petrol engine that was offered earlier with F30 3 Series 328i. The 245bhp, 350Nm torque four cylinder engine comes mated to the all-wheel Xdrive system and an automatic gearbox.
The Mercedes-Benz GLC 300 4Matic gets a similar 2.0-litre turbo-petrol that produces 241bhp and 370Nm of torque, 20Nm more than the BMW X3. The Mercedes is offered with a nine-speed ZF automatic gearbox and the 4Matic all-wheel drive system.
With both the Mercedes and the BMW weighing between 1800kg to 1900kg, the performance will be fairly similar with evenly matched power figures.
Price
The BMW X3 is priced at Rs. 54.90 lakh, ex-showroom, Delhi, while the Mercedes GLC 300 will set you back by Rs. 53.58 lakh, ex-showroom, Delhi. Both the cars are being assembled locally through the CKD route and Mercedes, with its wider sales and service network and a slightly lower price tag does get a slender advantage here.