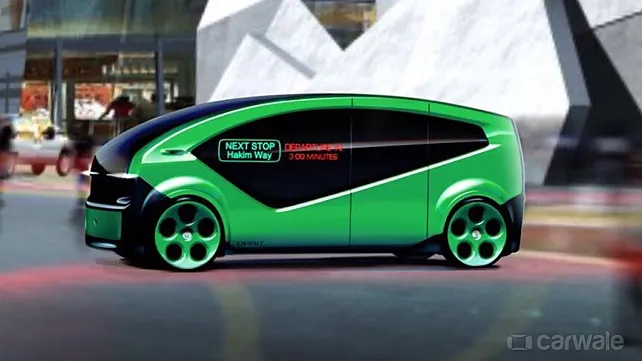 Fisker Inc. is on a roll. After the official reveal of the first electric sedan, the EMotion, the new-found carmaker has revealed an electric, connected, autonomous shuttle. The new boxy shuttle for smart cities is a public transport you actually want to ride in, says Henrik Fisker. The first deliveries of the shuttle are promised by October 2018.
A couple of images revealed on Twitter showcase a boxy van-like body style with futuristic features. There are display screens instead of windows which displays information like pickup points and departure times. Being connected, the Orbit will come loaded with ride-hailing and ride sharing features as well. The Orbit is a replacement for the boring buses that congest the city roads, believes the carmaker.

On the inside, there will be two different areas including a room to either sit or stand. The interior will take inspiration from modern hotel lobbies and futuristic furniture designs, Fisker said. No official details regarding the electric powertrain have been revealed yet. 
Henrik Fisker has collaborated with Hakim Unique Group (HUG) of China for autonomous vehicle transportation in major cities in the U.S. The decade-old Chinese firm is worth 32 billion USD and has more than 160 subsidiaries around the world. With the help of HUG, Fisker hopes the Orbit to take on the streets as early as October 2018 with deliveries beginning later next year.