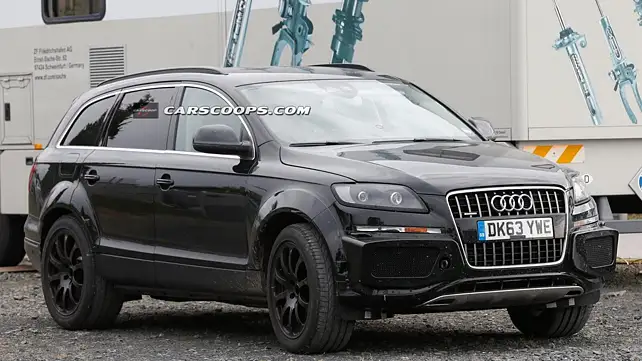 At first glance, the SUV in these pictures might be easily mistaken for a modified Audi Q7. But a popular motoring website ran a check on the registration number of the Audi and it turns out that the car has actually been registered as a Bentley in UK! This Audi Q7 is a cleverly disguised test mule of Bentley's new SUV, which is expected to go on sale in 2016.

The test mule featured widened fenders, bigger air vents as well as larger wheels and brakes. The headlamp assembly also adorned a different set of lights as compared to the current Audi Q7. The report adds that the test mule was powered by Bentley's a twin-turbocharged 6.0-litre W12 engine, which in the Continental GT churns out 607bhp and 820Nm of torque. This engine, Bentley claims, will make it the most powerful SUV in the world. Bentley is also considering adding a plug-in hybrid as well as a diesel variant in the SUV's line-up.

Bentley had unveiled the much criticised SUV concept, the EXP 9F, at the 2012 Geneva Motor Show, which was supposed to spawn the company's first-ever production SUV model. But the official pictures released by Bentley show that the SUV will be very different to the concept. The front of the production SUV will carry the British manufacturer's trademark mesh grille with twin-round light clusters, similar to the Continental GT, with taller SUV-proportioned air dams.

Bentley had revealed earlier that the car has completed its summer testing phase and the company will soon commence its winter-testing programme. The Bentley SUV will be manufactured at Bentley's manufacturing facility in Crewe, England. Currently, Range Rover makes the most premium and luxurious SUV in the market, though it might be unseated from this position after the launch of the Bentley SUV. Though with Maserati and Lamborghini also readying their luxury SUVs, it remains to be seen whether Bentley can keep its word of bringing the most luxurious and powerful SUV into the market.