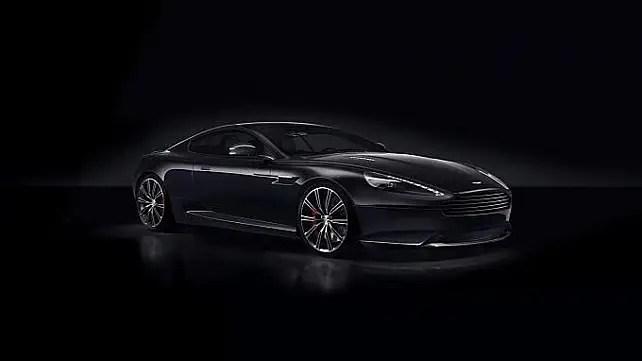 Aston Martin has announced that they will be launching two new cars at the 2014 New York Auto Show (NYAS). Aston Martin has also released the price structure of both the cars. The V8 Vantage GT will start at a base price of USD 99,000 (Rs 59.66 lakh) while the DB9 Carbon Edition will set you back a cool USD 1,99,995 (Rs 1.2 crore).

The Aston Martin V8 Vantage has been rechristened for the US market and is better known as V8 Vantage N430 in other markets, with the 'N' in the name standing for Nurburgring. The car is available in both Coupe and Roadster forms and houses the same engine from the standard Vantage S under its hood. The 4.7-litre V8 engine churns 430bhp and 489Nm which can propel this car to a top speed of 304kmph, knocking the first 100kmph in 4.6 seconds. The car is available with either a six-speed manual or seven-speed Sportshift II gearbox. Inside, the car has a carbon black theme with carbon fiber sills, black magnesium paddle-shifts for the semi-automatics and carbon fiber surrounds for the manual stick and a unique seat trim pattern. The seats have been borrowed from the top-end V12 Vantage S. The car will be available in five two-tone paint schemes with optional graphics packs- Speedway White, Skyfall Silver, Alloro Green, Mariana Blue and Jet Black.

The Aston Martin DB9 Carbon Edition is a special edition of the DB9 with a strong carbon black styling scheme all around. The DB9 Carbon Edition is also available as a Coupe or a Volante convertible and comes in just two colour schemes- Carbon Black and Carbon White. The car comes with the standard 6.0-litre V12 engine producing 510bhp and 619Nm of torque giving it a top speed of 292kmph. The engine powers rear wheels through a standard six-speed automatic gearbox. The car gets extra fittings like carbon fiber side strakes, rear lamp infills, black front grille meshes and 10-spoke diamond-turned alloy wheels with either silver or satin black finishes. Customers can also opt for optional extras like carbon fibre front splitter, rear diffuser and mirror caps.

Though both the V8 Vantage GT and the DB9 Carbon Edition had already been displayed at the 2014 Geneva Motor Show, the cars will be shown in their US specification on the American soil for the first time at the NYAS. The special edition cars might be a tempting option for customers looking for a luxurious GT car like a Porsche or a Bentley. Deliveries of both the cars are expected to start around third quarter of this year.