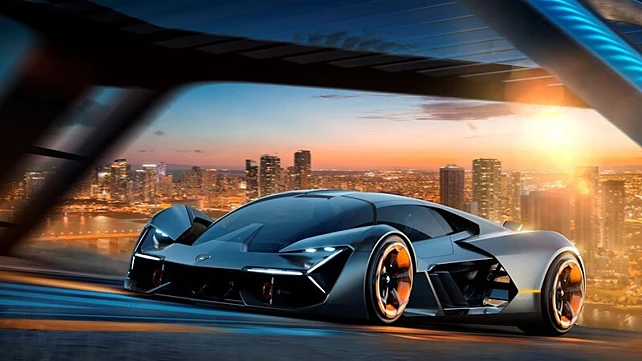 Globally popular performance car manufacturer Lamborghini has revealed the Terzo Millennio concept at the EmTech MIT Conference. The concept vehicle is a result of combined efforts between the Italian sports car manufacturer and Massachusetts Institute of Technology (MIT). Lamborghini has set a technological goal to address the future of the super sports car across five different dimensions - energy storage systems, innovative materials, propulsion system, visionary design, and emotion. The five different dimensions are explained below -


Design: The car gets a futuristic design element with an aggressive Y-signature front and rear lights. The company claims that new architecture offers improved airflow. A highly advanced monocoque based on Lamborghini's forged composite technology can be modelled, containing only the energy accumulation system and driver's and co-driver's seats, inspired by race cars. 


Energy Storage System: The electric vehicle saves energy in carbon fibre nanotubes. The supercapacitators are reportedly capable of releasing energy faster than the traditional batteries and also stated to be lighter in weight.


Innovative materials: Along with revolutionary energy support systems, Lamborghini is also working in improving the materials and functions. aims to further develop its leadership in the design and production of carbon fiber structures and parts, enhancing its ability to develop features and functions that take lightweight materials to the next level.


Propulsion system: Each wheel of the Lamborghini Terzo Millennio incorporates an integrated electric engine which offrs the four-wheel drivability. Moreover, the electric version will offer high torque, reversibility, and the possibility of moving energy by wire.    


Emotion: The company is focusing on the offering an immersive driver experience. Here, the responsiveness of the electric motors, four-wheel torque control and dynamic body control system will offer the enhanced driver experience.