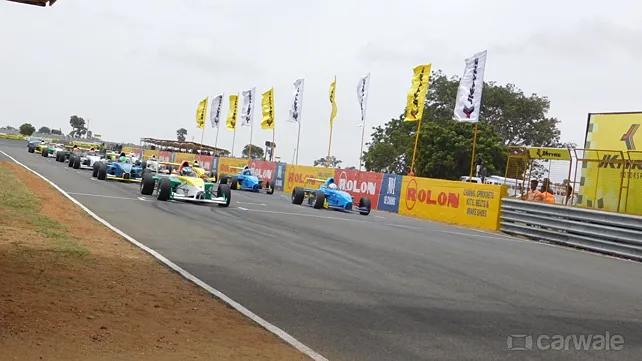 The 20th JK tyre national Racing Championship has concluded on a high witnessing some fierce racing throughout the field in all races of the Euro JK 17, Formula LGB4 and the Suzuki Gixxer Cups. Vishnu Prasad continued with his dominance on four wheels while Joseph Mathew held on his lead as well.

The day began with Formula LGB4 with Chittesh Mandody managing to pass the golden boy Vishnu Prasad after a long battle through the race. By now, most people know how difficult it is to pass Vishnu, but Chittesh's perseverance paid off when the race leader got blocked by a back-marker when he was on the defensive line. The second LGB4 race saw two restarts after a pile-up at C2 from the first race start and Yash Aradhya from Bangalore flipping over in the second lap after the first restart. Chittesh Mandody, starting from the pole, maintained his lead throughout despite the safety car coming in to take the win followed closely by Vishnu Prasad again on his way to a clean sweep over the weekend. Saran Vikram finished third in the second LGB4 race of the day.

The premier class, Euro JK 17, was dominated all over again by Vishnu Prasad with the Tamil Nadu racer claiming all four wins over the weekend. Race 3 saw Akash Gowda regaining some form to finish second while Vikash Anand claimed the third position. Race 2 was a rerun of Saturday with Vishnu battling defending champion Anindith Reddy and Nayan Chatterjee over the race length. 

The Gixxer Cup was dominated again by Joseph Mathew right from the beginning. Number #23 Lalmawipuia attempted a double overtake on the fellow Mizoram rider Malsawmdawngliana and race leader Joseph.But he had to cede the lead back to the two again after a few corners. There was also a fierce battle for the positions 5, 6 and 7. In the Road to Rookies Cup, Sri Lanka's Jaden G registered another undisputed win. Varoon S, fought the Team Mizo racers, Lalhruaizela and Lalnunsanga to claim the second position. 
Further rounds of the JKNRC will be held at MMRT in Chennai and BIC in Delhi as the season progresses.