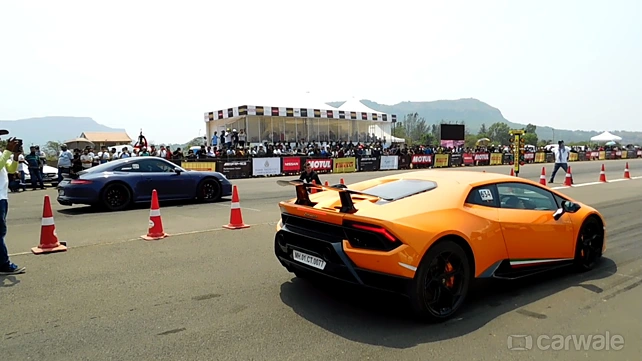 When was the last time you saw a supercar stretch it legs and unleash the full potential of its massive powertrain? These supercars are kept locked up in garages all their lives. But what they need once in a while is just one bare stretch of tarmac to demonstrate what they are capable of. And therefore, the airstrip on the top of the Aamby Valley serves as a perfect venue. The Valley Run is an annual event where we can see these powerful machines smoking their tyres racing down the drag strip and disappearing into the horizon as fast as they can. This year too, we saw some seriously powerful and expensive supercars living their life quarter mile at a time. So here are the top five supercars that ran the 2018 Valley Run. 
Lamborghini Huracan Performante

When Lamborghini introduced the Performante edition of the Baby Lambo, it went ahead and broke the Nurburgring lap record. Watching the ferociously loud Performante dip its tail and hurtle down the drag strip was truly a sight to behold. Clocking a time of 10.849 seconds, the Performante became the fastest car of the event.

The most intimidating Mustang in India was present at the Valley Run. It had a Shelby GT500 body kit with adjustable front splitters and fixed canards. The massive wheels were snugged inside the flared wheel arches. The 5.0-litre V8 of the standard Mustang was supercharged to breathe out 700bhp. But the Muscle car was running on stock brakes which prevented it from being fully exploited. Yet it ran down the quarter mile in just 12.729 seconds. 
Porsche 911 GTS

When the GTS showed up at the drag strip right next to the Performante we were intrigued to see the showdown. The 991 GTS trim makes 450bhp in its standard guise from the rear-mounted flat-six naturally aspirated engine. The 911 Carrera GTS won the H2 Foreign Cars with a time of 12.474 seconds.

No event involving supercars is complete until an Audi R8 shows up. The V10 monster from Ingolstadt managed a time of 11.378 seconds. But what caught the attention the most on the blue hue R8 was the Shark Mouth decal famously seen on the Curtiss P-40 Warhawk fighter planes of WW2. 

Yes, the second Porsche in the list is an SUV. The Cayenne recorded an impressive time of 13.626 seconds and finished third in the Pro Stock Foreign Class category after the R8 and the Huracan. The Cayenne S packs in a 4.0-litre turbocharged V8 punching out a whopping 550bhp and 770Nm of twisting force.