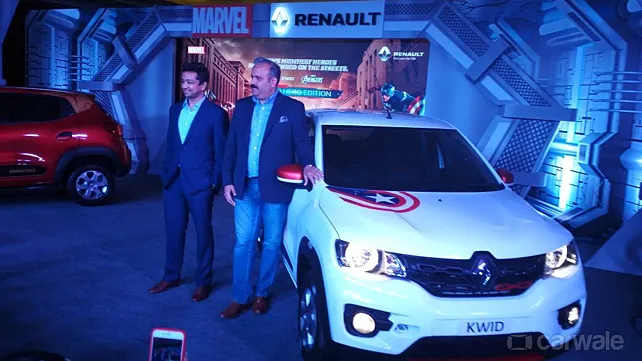 On the heels of launching the Kwid Live For More Reloaded 2018 Edition last month in India, Renault has now introduced the Kwid Superhero Edition. This new verison will cost Rs 29,900 more than the standard Kwid.
As expected, Renault's Kwid Superhero Edition is based on the themes of 'Iron Man' and 'Captain America'. This limited edition Kwid carries graphics of these popular Marvel characters on the exteriors and will appeal to buyers who are fans of these characters. 
In terms of additions, the Captain America themed car gets blue coloured centre fascia and accents on the steering wheel, red coloured gear knob and bright red ORVM  cover with white strips. The Iron Man-inspired edition, meanwhile, gets the same treatment but in different colours. 
As this limited edition will mechanically remain the same, it will be powered by the same set of engines. These being the 0.8-litre and 1.0-litre petrol drivetrains with the larger capacity motor having the option of an AMT gearbox.