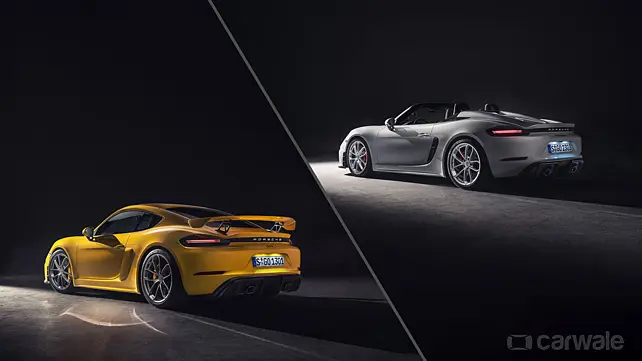 -    The pair gets a newly-developed 4.0-litre six-cylinder naturally aspirated boxer engine producing 414bhp.
-    The Spyder makes its return to the Cayman family, while the GT4 is the entry-level GT model in the Porsche line-up.
Three years after the 718 range switched to the four-cylinder turbo engine, the all-new Spyder and the Cayman GT4 marks the return of the naturally-aspirated boxer-six engine in the line-up. Powering the duo is a newly-developed 4.0-litre engine which is a bored-out version of the 3.0-litre unit from the 992 911.

This new motor puts down 414bhp and 420Nm which is channelled to the wheels through a six-speed manual transmission. That's 44bhp and 35bhp more than the previous-generation Spyder and GT4, respectively. Porsche claims that the motor can rev up to 8000rpm and has enough juice to push both the cars over the 300kmph top speed. Both models can accelerate to 100kmph in 4.4 seconds from a standing start. 

And while the characteristic boxer sound of the engine is retained, there are modern-age technologies such as cylinder deactivation, Piezo injectors and variable intake system to increase efficiency and reduce fuel consumption. There's a particulate filter added as well while both the cars now carry bigger batteries since engine start-stop function is standard. Other hardware updates include a 50 per cent increase in downforce, reduced ride height, carbon-ceramic brakes, Michelin Pilot Sport Cup 2 tires and many bits and pieces from the GT3 range.