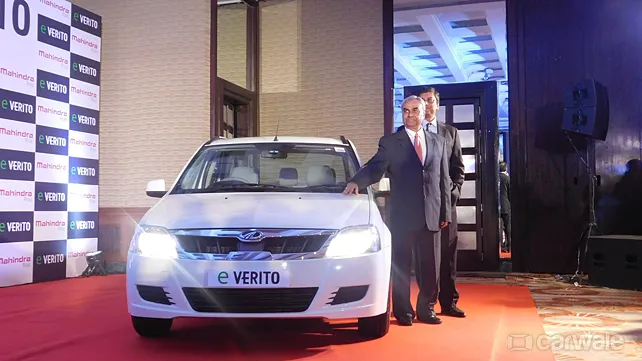 Mahindra has launched the e-Verito sedan for a price tag of Rs 9.50 lakh (ex-showroom, Delhi). Based on the Mahindra Verito, this is the first fully electric sedan launched by an Indian car maker and the second electric car in India after the Mahindra E2O.
The e-Verito is being powered by a 30.5kW electric motor which roughly translates to 41bhp in internal-combustion-engines' terms. While the power figures may not seem lucrative for a spin around the Buddh International circuit, the tractability is enough for the car to reach a top speed of 86kmph. But the most attractive attribute of the e-Verito is its 110km range on a full charge. It takes eight hours and 45 minutes for a full charge but if you have to run a quick errand, you can opt for a quick recharge of one hour and 45 minutes to charge it to 80 per cent.
The e-Verito is not visually different from the standard Verito except for the badges on the boot-lid and graphics that run along the length of the car. On the inside, it is the familiar Verito cabin with loads of space. It gets a brand new digital instrument cluster which looks futuristic with its blue backlit display. Like the standard Verito, the e-Verito is also available in three trims – D2 (Rs 9.50 lakh), D3 (Rs 9.75 lakh) and D6 (Rs. 10 lakh) ex-showroom Delhi.
The Mahindra Verito ideally competes with Toyota Etios but the e-Verito does not have a direct competitor. If you are looking for green powertrains, you have to go for the Toyota Camry Hybrid or the Toyota Prius, both of which are quite expensive.