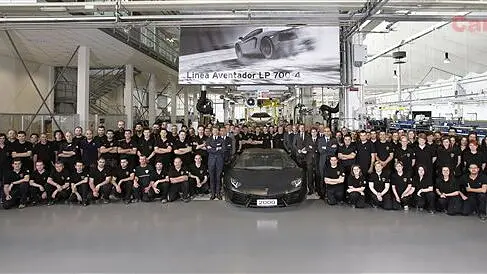 Lamborghini has recently rolled out the 2000th Aventador LP 700-4 from their facility in Sant'Agata Bolognese, Italy. The 2000th Aventador supercar has been bought by an excutive of US based telecom giant AT&T.
The Sant' Agata Bolognese plant's production has increased at a much higher rate for the Aventador LP 700-4 as compared to their previous flagship model: the Murciélago. It took four and a half years before the 2,000th Murcielago rolled off the assembly line. Launched in 2001, the Murciélago reached the 2,000-vehicle milestone in March 2006. The Aventador has reached this milestone in just two years, with production currently of nearly five cars per day.
The Aventador LP 700-4 is powered by V12 6.5-litre that generates 700bhp of power at 8250 rpm and torque of 690Nm at 5506 rpm. The mill is mated to a 7-speed automatic gearbox and transmits power to all four wheels via a Haldex 4WD system. The car can accelerate from 0-100kmph in three seconds and hit a top speed of 350kmph.
The company recently launched the Roadster version in India for Rs 4.77 crore. The roadster has been fitted with a detachable hardtop which can be removed in just two easy steps. The two-piece roof is made entirely from carbon fibre using various technologies which guarantee maximum aesthetic performance and stiffness although each component is extremely light, weighing less than six kg.