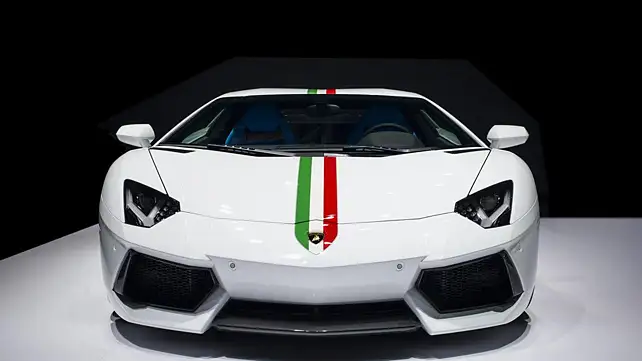 Times have been good for Lamborghini as it has managed to rack up 1,500 orders for its latest offering, the Huracan LP610-4. This was revealed by the Italian manufacturer at the ongoing 2014 Beijing Motor Show, where the supercar made its Asian debut. Besides the Huracan, Lamborghini also unveiled a special edition of the Aventador, called Aventador LP700-4 Nazionale.

The Aventador LP700-4 Nazionale was showcased to promote the manufacturer's customisation program called Lamborghini Ad Personam. This program allows customers to customise their car with a wide range of stylistic parameters andaccording to their taste. Nazionale is the Italian word for 'national' and the car carries a patriotic theme all around. The car is painted in Bianco Opalis (white) colour and wears the colours of the Italian flag, just like the old Gallardo Tricolore edition. Other customised touches include anthracite wheels and blue leather interior with Nero Ade and Blu Cepheus colour schemes. The Italian flag stripe has been carried inside on the leather upholstery as well. To be sold in limited numbers, the car continues to be powered by the same 6.5-litre V12 engine, producing 691bhp and 690Nm of torque.

The Huracan was built on an all-new platform, which will also be used in the next generation Audi R8. It is powered by a revised version of the engine from its predecessor, the Gallardo. The 5.2-litre V10 engine produces 610bhp and 560Nm of torque. The engine powers all four wheels through a seven-speed dual clutch gearbox. By February, Lamborghini had received 700 bookings for the Huracan and now in less than three months, it has accumulated more than twice the number of orders.

The Gallardo has been Lamborghini's most successful car till now, selling more than 10,000 units in over a decade. The Huracan has been critised by many for its conservative styling, though if the numbers are anything to go by, the Gallardo's record might soon be broken.