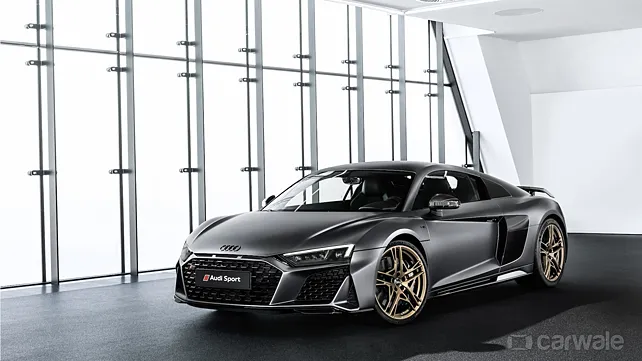 -Just 222 examples of the R8 Decennium will be built
-Will only be offered in coupe trim
The Audi R8 when launched showcased cutting edge technology and also that Audi was just as adept at making supercars as it was making its regular sedans and SUVs. In 2009, with the V10 engine plonked in, it pushed the performance boundaries even further.
It's been all of ten years since the Audi V10 came into existence and Audi is celebrating by bringing in the R8 Decennium edition. The special edition is offered in coupe trim only and features a special Daytona Gray matte exterior color paired with bronze accents. Specifically, the 20-inch wheels and the engine's intake manifold get the bronze look.
The cabin receives a color palette similar to the exterior with black upholstery complemented by black and copper contrast stitching on the seats. Also Decennium logos adorn the center console and doors, and the same logo is projected on the ground from the puddle lights when the driver or passenger opens the doors.
The 5.2-litre, V10 engine remains unchanged boasting an incredible 602bhp with power going to all four wheels. Audi will build just 222 special editions and we pray one of them makes it on to Indian shores.