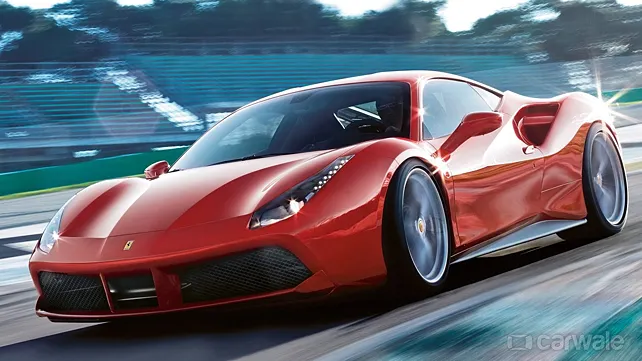 Lamborghini had once conquered the Nurburgring with the hardcore Huracan Performante. Then, along came Porsche and it shattered all the previous records with itd extreme 911 GT2 RS. Naturally, Ferrari isn't likely to sit behind the lines and content to be just a spectator. According to recent reports, the Maranello-based carmaker is now developing a hotter version of the 488 GTB which will be a spiritual successor to the 458 Speciale. 
The track-focused 488 is expected to breathe out around 700bhp from its mid-mounted twin-turbocharged 3.9-litre V8. The torque is expected to increase substantially over the standard car's 760Nm. As is the case with most Nurburgring cars, the hardcore 488 will lose a few precious kilograms from its total weight. If the weight saving measures of the 458 Speciale are anything to go by, the new mean machine will get no sound insulation for the engine bay, thinner glass for windscreen and windows with lighter ceramic brakes and forged wheels. It all would help Ferrari's Ring champion to tip the scale at around 1400-1500 kilograms. 
Unlike the Porsche or Lamborghini, Ferrari has the know-how of Formula 1. This expertise can help them make the car more aerodynamic than its adversaries. The standard 488 produces 325kg of downforce at 250kmph. On the other hand, the king of the ring, the 911 GT2 RS is capable of producing up to 340kg at the same speed. Ferrari could best that aerodynamic figure with their Ring contender.
Ferrari has remained tight-lipped so far about the new track-focused 488. However, a mysterious test mule of the 488 with multiple hardware upgrades was spotted on more than a few occasions. Now what remains to be seen is what the hardcore 488 will be called. The Italian carmaker is rumoured to use the iconic GTO moniker, but that is yet to be confirmed. The exclusive GTO badge has only graced three cars in the company's 70 years history. The ultra-rare 250 GTO of 1962 was followed by a 288 GTO in 1987, both of which were homologated race cars. The 2010 599 GTO was not homologated for racing though but was a road-legal version of the track-only 599XX. So whether Ferrari would use the GTO insignia or not is yet to be confirmed. If not, the hardcore 488 can make do with other insignias from Ferrari's rich heritage such as Stradale, Scuderia or even the Speciale.
We expect to see the new hardcore Ferrari sometime next year. When it arrives, we hope it spice things up for the contentors of the 'King of the Ring' crown.